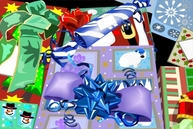 FOUR DAYS till Christmas?
and you want me to take a NAP?

Seriously? Are you nuts?

Last minute orders are delivered except for two. The paper shredder is jammed. Glue gun is stuck. Again. Out of tape? Can't be. I bought the last truckload after Christmas last year. It's here somewhere...
Can you please make the bed? Hubby walks by and plops in recliner. Now, please?
It's not dry.
Dryer stopped ten minutes ago and clean sheets are draped over the bed.
Hubby looks around from said recliner. Oh.