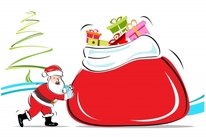 THREE DAYS before the main event.

Ahhh...gifts are wrapped and ready to deliver to family and friends. Tomorrow. It's time for a glass of wine and try to figure out how the heck I punched the wrong button on the bread machine. THREE HOURS??? You've got to be kidding. I needed "dough". Not a loaf of bread. I have no idea how to stop this thing...even unplugging it doesn't make it stop. I do believe the LITTLE RED ELF had something to do with this. I'd been warned...
What do you mean your cousin is leaving for Phoenix TODAY? That means we've got to get these gifts over there...NOW! But what about the bread? Hubby will have to make the deliveries. Take son with you. If I murder the bread machine, I don't want any witnesses. Just a new machine. Or new brain, whichever the insurance covers.

Three hours behind schedule. Forget the wine. There's a bottle of tequila behind the extra sack of flour I bought. Thank goodness for small favors and extra large beverage bottles.
It's going to be a late night.

How does Santa do it? Sure, he's got an entire year to prepare. But so do we. Take the one-night deliveries all around the world--Amazon's not even that good! Around here, It takes an hour on average for each gift delivery, depending on what kind of cookies they offer. Sugar cookies? An hour. At least. Oatmeal? No thanks. Molasses? I'm spending the night.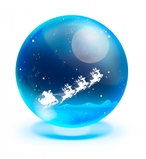 How does the BIG GUY do it? "...placing a finger alongside his nose, and giving a nod, up the chimney he rose;..."
It's the magic of Christmas. It's everywhere, just take a look around. We'll get the kraut bieroks and cinnamon rolls done. We always do.

For now, the guys are enjoying a fresh baked (however unplanned) loaf of sweet white bread and the bread machine is alive and kneading the next batch of dough.

And the house sure smells good. Like Christmases past with my mom. What's not to love about that? And we're making memories to last a lifetime for our son and his family someday.

THAT's the magic of Christmas.

Merry Christmas everyone. Take a deep breath and enjoy this time with family and friends. And break out that special bottle of wine you've been saving. What are you waiting for?

Until next time~
Happy Reading,

Susie


Images courtesy of www.freedigitalphotos.net
Santa Pushing Gift Bag Stock ImageBy
digitalart
, published on 30 June 2011
Stock Image - image ID: 10047980
Wine Glass With Bottle Stock ImageBy
digitalart
, published on 02 May 2011
Stock Image - image ID: 10039947
Santa Claus On Sledge With Deer Stock ImageBy
Nutdanai Apikhomboonwaroot
, published on 10 October 2011
Stock Image - image ID: 10060676