Come on in...Coffee's hot...
​
​Name: Susan Haught (But please call me Susie...sounds younger, don't you think?)

Birthday: October 29th (a "bewitching" day!)

Favorite vacation: Toes in the sand, crash of the waves and sea oats dancing on the wings of the Atlantic breezes on the Outer Banks of North Carolina. Or stuck in a cabin in three feet of snow in the middle of nowhere.

Favorite book: Outlander series; Lord of the Rings; Harry Potter; The Dark Tower Series-- (way too many to list here).

Favorite movie/TV series: STARZ Outlander; Nights in Rodanthe; Breaking Bad; Finding Neverland, Finding Nemo; Independence Day...and the list goes on.
---
"Twenty years from now you will be more disappointed by the things you didn't do than by the things you did do. So throw off the bowlines. Sail away from the safe harbor. Catch the trade winds in your sail.
​Explore. Dream. Discover." ~Mark Twain
---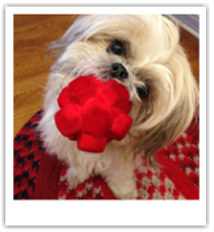 At the base of the mountain...

Award winning author Susan Haught, lives in Arizona's Rim Country with her husband and spoiled Shih Tzu, Mercedes, who believes her princess status earns her the right to sleep on pillows, ride shotgun, and train her peers in the fine art of squeaky toys. Susan and her husband have one son.

With Mercedes and a stash of Australian black liquorice by her side, Susan writes contemporary Women's Fiction & Romance with the belief that Love is Ageless and has the power to change lives—one step, one touch, one kiss at a time.
---
Susan
is the author of
the Whisper of the Pines series of books which include A Song for Ladybug, (Book 3,)
A Thousand Butterfly Wishes
(Book 2)
Promise of Fireflies,
(Book 1),
In the Shadow of Fate
- the companion book to
A Promise of Fireflies
, and is among the contributors to
Dream Believe Write,
a unique writing journal for fiction writers, published by
Four Carat Press.
Susan is currently working on Book #4 in the Whisper of the Pines series,
On Wings of Dragonflies
,
due out early 2019. She is also working on a novella in the same series, due summer 2018.
"Don't Worry Dad, I Won't Panic"
, the story of a young boy's adventure when a snowstorm turns vicious and incapacitates his father, was featured in Focus on the Family's
Clubhouse
magazine for children. The story is read each year in Susan's husband's 5th grade class.
A multi-award winning author, Susan's women's fiction novel, A Promise of Fireflies was awarded the New Apple 2017 Official Selection for Excellence in Independent Publishing in the Romance Division. S
usan's short story
Vicious Circles
short-listed (top 14) in the Writer's Village International Short Story Contest, summer 2014. Rewritten for the contest, it's an excerpt from On Wings of Dragonflies (Four Carat Press, 2019). She was also selected in 2017 as a finalist in the Best of the Rim Reader's Choice Award.
Though her first published story was for the YA genre, Susan's heart lies in the powerful character-driven stories of contemporary women's fiction and romance. She believes love is ageless and her stories reflect this by incorporating the passion and fervor of young love, the sensuality and compassion of enduring love and the devotion and reverence of the once-in-a-lifetime love.
A current member of Romance Writers of America, Susan served on the Board as Secretary for the Northern Arizona RWA chapter for five years. She is also a member of Women's Fiction Writers Association, RWA-WF, Arizona Professional Writers, and mentors others interested in creative writing.
There are three words Susie feels should not be a part of any writer's vocabulary...woulda, coulda, shoulda...and is a firm believer you should never stray from your dreams until you've exhausted every angle possible. And when you have, figure out yet another...anything is possible if you believe. Take your passion...and make it happen.
---
---
---
This site was created and maintained by Susan Haught. All content Copyright © 2013 - 2018 by Susan Haught unless otherwise noted. All rights reserved. Privacy Policy available at:
susanhaughtbooks@gmail.com