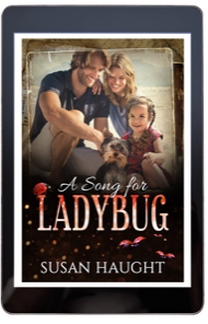 **New Release**
Whisper of the Pines series ~ Book III
The Most Highly Anticipated Book of the Series
​
One night shattered her life—a horror fifteen years couldn't erase.

Rachel Caldarone hides the memories of the night she was sexually assaulted in a locked compartment in her mind, but when a letter arrives notifying her of her attacker's request for early release from prison, the past threatens to unleash the horror.

Miles Malone, local veterinarian and SAR volunteer has never forgotten the woman he comforted the day her husband went missing five years ago, whose image guides him through his own nightmares of Iraq and a senseless loss. Nor can he untangle Rachel's daughter—the little girl everyone calls Ladybug—from his heart. An audacious adventurer by nature, Miles is used to taking risks—but he can't compete with a ghost.

As Rachel's fears deepen, so do her feelings for Miles. With Miles by her side, Rachel gathers the courage to see the man who assaulted her remains behind bars. The horrible memories unleash at the prison, but Miles vows to protect her and keep her from disappearing into the past, and from his life.

Rachel is a survivor, but surviving the aftermath without losing Miles may be more than either of them bargained for. ​
---
---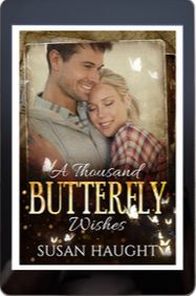 Whisper of the Pines series ~ Book II
​
What if the price of your wish is living without it?
​
Rachel Gowen wishes for nothing more than to escape the past decade—to safely lock away the memories that keep her from a future she can only dream about. But a Native American butterfly legend and Ambrose, a mysterious stranger who knows things he can't possibly know, a cast of quirky characters long past their prime, and Nico, a tenacious and caring nursing assistant, will ignite the very memories she's desperate to escape.

Rachel begins her new life as a nurse in a retirement facility. After all, how risky can it be working with the elderly? She quickly forms deep attachments to her patients, helping them in ways far beyond her duties. And it's not long before she forms a relationship with Ben, the handsome British doctor who's too busy, too unromantic, and too distant—exactly what she's looking for.

But Rachel can't conform to the rules. Nor can she deny the connection she shares with Nico. With her job in jeopardy, Rachel's priorities and relationship with Ben are challenged. But one thing is certain—Ambrose knows things that will expose their secrets and pave the way to a future she never envisioned.

Rachel is promised a thousand butterfly wishes—but all she wants is one.
(available in eBook & paperback)
---
---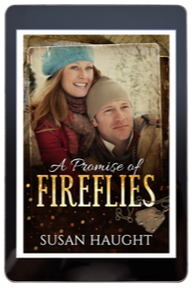 Whisper of the Pines series ~ Book I
**2017 New Apple Summer eBook Award for Excellence in Independent Publishing in the Romance category.
A blood-stained journal holds the answers to secrets her mother took to the grave, but a mysterious stranger knows the answers--truths she never expected. What she discovers shatters her family history, and sets in motion a future she never envisioned.
When Ryleigh discovers a blood-stained journal among her deceased mother's belongings, her curiosity leads her to an enigmatic old man who reveals...
Read more-->
Fireflies
"A Promise of Fireflies takes you on an unforgettable journey of love, heartache, and redemption--a story you don't want to miss. 5 Stars!" ~USA Today bestselling author, Holly S. Roberts
​​
---
---
in the Shadow of Fate
A Promise of Fireflies companion Book of Poetry ~from the journals of Ryleigh & Ryan

​

Strangers separated by forty years and a bloody war, their only bond is a name engraved on The Wall. He walked in the shadow of fate. She stepped into the shadow of love.

Ryan walked courageously toward his destiny and left his legacy—words written in a bloodstained journal.

Ryleigh composes her words when a second chance at love is cut short by...

Read more—>

in the Shadow of Fate

---

Writing Prompts for Fiction Writers
​
The authors at Four Carat Press have combined efforts to offer you a unique writing journal.

Inside, you'll discover inspiration and motivation as you peek into each author's personal writing style. In addition, they have created writing prompts spanning several genres that are sure to tap into your creative mind and stimulate ideas for your next short story, blog post, poem, essay, or full-length novel. Whatever your chosen medium—this is the journal for you. ​

---
---
Here's what readers/reviewers are saying about Susan Haught's books:
​
"
The advance copy I read of this book is my first by this author and my eighteen years of education have left me woefully inept to write a review that can begin to do this book justice. This one ripped out my guts, shredded my heart and left jagged tears in my soul."

"Ms. Haught's words are so poetic and emotional they've left an indelible mark on my soul. The characters and their relationships are so rich, full and complex, and her vivid imagery brought the book alive."

"This was by far the very best book I have read in years, and I am old. This book will just engage you from the start and rip your heart out along the way!"
"
This is one of those books that digs deep into your soul and might rip your heart out."

"The vast majority of books in the romance genre today are function over form, quantity over quality, with stereotypical heroes and well-worn storylines, even from best selling authors. Susan Haught's books are a breath of fresh air in this crowded arena, giving the reader a glimpse of deep, abiding love, admirable, endearingly flawed and intricately complex characters, and a storyline evoking strong emotions, offering fresh insights and life lessons, and inspiring hope and faith in the midst of a troubled world."
"
The character development is amazing."

"I was swept into a emotional place as I cried, and laughed out loud and was awed by this author's writing that reaches every corner of the heart, connecting the fabric of each character, and bringing deeper fulfillment to the healing power of love which is ageless."
"
I fell in love with the characters. It's been a while since I got into a book as deep as I did this one!"
"
I love when words have the ability to raise the hair on my arms, to make me shiver and tremble."

"You know when you're out in the frigid weather and come inside, shed your outer garments, curl up by the fire under a soft blanket, and the heat slowly seeps in until you're all warm, content and cozy? That is this book."

"A Promise of Fireflies is a rich, multi-layered story about a woman who confronts her past in order to pave the way for her future."

"Author Susan Haught writes so well that I, a guy, wanted to keep turning the pages of this by, for and about women novel just to see how she puts the words together. She has become a consummate craftswoman, a wonderful word smith."

"Her lyrical writing style painted magical images of both beauty and grief, thrusting me into the acute emotions of her characters."

"Susan uses her words like a song writer composes lyrics, a poet poetry and a true author, tapping into overwhelming emotions to tell her story."
See more reviews on
Amazon
and
Goodreads
. ​
---
This site was created and maintained by Susan Haught. All content Copyright © 2013 - 2018 by Susan Haught unless otherwise noted. All rights reserved. Privacy Policy available at:
susanhaughtbooks@gmail.com