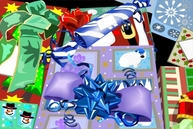 FOUR DAYS till Christmas?
and you want me to take a NAP?

Seriously? Are you nuts?

Last minute orders are delivered except for two. The paper shredder is jammed. Glue gun is stuck. Again. Out of tape? Can't be. I bought the last truckload after Christmas last year. It's here somewhere...
Can you please make the bed? Hubby walks by and plops in recliner. Now, please?
It's not dry.
Dryer stopped ten minutes ago and clean sheets are draped over the bed.
Hubby looks around from said recliner. Oh.



According to the men in my household, the grocery list is written in a foreign language. Fresh cranberries? You mean the kind with the chunks in the can, right?

Not exactly.


The last lighted block gift is done! Yippee! Huh? What? What do you mean one isn't lit? I just checked it. Maybe the fuse? Of course. Change fuses. Voila! Flicker, stutter, poof. Son rolls eyes. Hubby scratches head. I clench my fists. "Please? WalMart is still open." Hubby rolls eyes. Son scratches head. I tear apart lighted block. Boys return with more lights than necessary...whatever. At this point, if it stays lit it's a WIN! So what if it's lit up like Times Square on New Year's eve.
I'll throw in a pair of sunglasses.

Glitter is swept from the floor. Ribbons pinned back in place. Gift bags separated according to size and put back in storage. Wrapping paper back in storage bins, lids clamped in place and neatly stacked in storage shed. Trudge back through rain. Hubby says, "Oops. I forgot to give you this." Hubby hands me the mail. Two last minute orders have arrived.
Crap.


Unclamp bow and ribbon bin. Find name tags. Relocate scissors, tape, and pull gift bag from storage box and six fall on garage floor.
Trudge back to storage shed to bring wrapping paper back to the garage.
In the dark.
Brush snow from hair that's now pasted to forehead. Yes, it's snowing.

What's that noise? Is someone snoring?
Oh.
Never mind. He better not be dreaming of sugar-plums dancing in his head unless he intends to make them!

What did I do with my coffee?
Oh.
Open microwave door. Cold. Still.

It's 11:00pm. My feet hurt and my back aches, but the gifts are complete, everything works and the wrapping is done. But there's still kraut bieroks and cinnamon rolls to make, and the peaches-n-cream dessert for the work potluck. And in ONE HOUR it will be THREE DAYS till Christmas.

Take a nap?

I don't think so.

I sincerely hope your plans are completed and your family is gathered around so you can enjoy these blessed times with friends and family. And don't forget Christmas Eve services, visiting the homes of those who decorate with dazzling light displays, a cup of hot cocoa and your favorite holiday movie. Enjoy the sights and sounds and have a very Merry Christmas.

Until next time,

Happy Reading,

Susie

I
mages courtesy of www.freedigitalphotos.net
A Pile Of Christmas Gifts Stock PhotoBy
Grant Cochrane
, published on 27 October 2013
Stock Photo - image ID: 100212890
Christmas Wish List Stock ImageBy
Grant Cochrane
, published on 15 October 2011
Stock Image - image ID: 10061130
Weather Sun And Clouds Stock ImageBy
Vichaya Kiatying-Angsulee
, published on 30 January 2013
Stock Image - image ID: 100136478
Christmas Decoration Stock ImageBy
Feelart
, published on 29 October 2013
Stock Image - image ID: 100213161