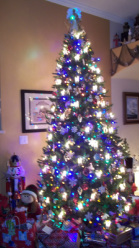 SIX days till the BIG DAY
and most of the packages remain intact. Leave it to Ryleigh to remedy that minor detail and discover the magic of Christmas. Early.

Ryleigh is the Yorkie pup our son brought home without our permission and we promptly fell in love (also without permission). After the first few weeks, I told my son if my grandchildren acted like Miss Riles, I was moving to Italy. Permanently. I teased him, but truth be known, this little dog immediately captured my heart. It took our 8 year-old Shih Tzu, Sadie, a little longer to warm up to her (3 weeks to the day), but when she finally did, they became inseparable buddies. Now Sadie thinks she's a puppy too. What one doesn't figure out, the other does. Perfect combination for trouble.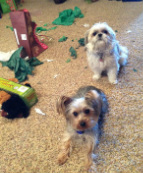 Christmas isn't new to Sadie, as she's been known to thieve a package or two. She's never ripped one open, just peeks into the gift bags with her nose (what little nose she has). Tigger Boy, our other Shih Tzu who left us in 2012, was the bow thief. He loved Christmas bows, birthday bows, hair bows, and now and then a shoestring if tied to his liking. Tigger loved frilly bows, big bows, tiny bows and had no preference whether store bought or handmade. He wasn't picky, but did prefer them slimed and OFF the packages. Between the two, we rarely had gifts with bows.

Now we have this...puppy. Everything changed. Christmas is to her--an adventure! I came home one afternoon at lunch time to let them out. Nothing seemed amiss though they both looked rather guilty. The investigation commenced. Arizona doesn't have tornadoes, but when I peeked into the living room I could have sworn one had touched down inside my house. I gasped. They slumped. I glared at them. Their eyes bugged and their ears did that "paste to the head" thing that's so darn cute. One gift bag (it looked like a hundred) was torn to shreds and a trio of squeaky toys lay exposed. It's the only one they bothered. How'd they know? Actually, I think Sadie can smell a squeaky toy a mile away. I proceeded to scold them, and Ryleigh tucked herself under Sadies's tummy. Guilty as charged.

I know my dogs are smart (see enclosed proof) but I didn't know they could read the name tags on the packages. I Tweeted and posted the picture on Facebook, and I still chuckle over the disaster. How can you get mad? Just look at those eyes...

I think it's a conspiracy to drive me insane. Or at least an inside job. Sadie started it, I have no doubt. But Miss Riles finished the job. I assume they wanted to leave their mark.

At least it wasn't a doggie Tootsie Roll! Now that would just be...EW!

..."not a creature was stirring..." Except the dogs....oh boy...still have a few days until the BIG DAY.

Fingers crossed...
Until next time,

Merry Christmas. May all your dreams come true!
Happy Reading!

Susie