Ahhh…Valentine's Day.

Some love it. Some hate it.

I love it.

Duh.


I'm a romance author so anything to the contrary would be on the hypocritical side, don't you think? I'm a hopeless romantic, even though when I fell in love, I did so

with a man who prefers tacos and an Arizona Cardinals game over a romantic dinner any day. Candles? Love notes? Cuddling on the sofa?

Not a fat chance during sports season. And sports happen All. Year. Long.

Candles are for lighting a path to the Doritos when the power goes out or filling the kitchen with the aroma of sugar cookies; love notes consist of a hastily written text to tell me he's watching the local high school baseball game; and cuddling? Sheesh. Doesn't happen. When it does, his head bobbles worse than a Randy Johnson Bobble Head because he's trying to catch that last strike, or lean into that all-important touchdown, or help create a downdraft for Team USA swooshing through the slalom poles.

But that's okay, because I create characters who DO love to do these things. It satisfies my inner romantic and I'm okay with that. I know hubby loves me, and that's all that matters—even if my Valentine's Day surprise is a box of chocolates wrapped to look like baseballs.
It's the thought that counts.
BTW--ever noticed those yummy chocolate Easter eggs bear a remarkable resemblance to footballs?
Yeah. Me too.

I adore happily-ever-afters. I adore endings that make me cry. And I adore the inescapable twinges in my tummy that a good romance will undoubtedly provide. And I especially adore the timeless story of love that endures through this rough road we call life. So that's what I read, and that's what I write. A character-driven story will always top my list of favs and if there's romance involved, I'm so there.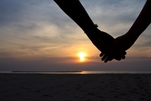 I think we all seek what true love really means. I think we all deserve to know. It's not always in the outward gestures we associate with "romance", or the lavish gifts or expensive dinners. Sometimes it's the little things. Like little baseball chocolates. A considerate text to say he'll be late. Fulfilling a last wish. Or holding the same hand you've held for more years than you remember how to count.

Yep. I'm a hopeless romantic. I write the mushy stuff.

Happy Valentine's Day, everyone. Cherish the day with the one you love. And remember--Love is ageless and has the power to change lives.

Happy Reading--

Susie


PHOTO CREDITS:
Valentine Card With Bubble Stock ImageBy digitalart, published on 07 August 2011
Stock Image - image ID: 10052956

Easter Egg Candy Stock PhotoBy Maggie Smith, published on 30 January 2014
Stock Photo - image ID: 100231645

Wine Glass Stock ImageBy digitalart, published on 02 May 2011
Stock Image - image ID: 10039889

Silhouette Hand In Heart Stock PhotoBy tiverylucky, published on 19 June 2013
Stock Photo - image ID: 100177453